Credit Card Processing
Terminals and POS Solutions
Our Most Popular Terminals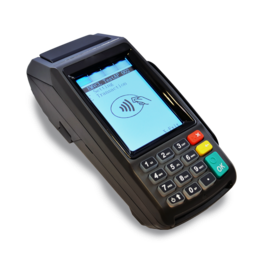 DEJAVOO Z8 Tri Comm
EMV and NFC Contactless Built In – EMV 4.x L1 and L2 certified
Tri-Comm capability (Dial, IP, & WiFi)
Connect to WiFi easily, self-discovering so the terminal finds all available Networks!
2.4'' Color LCD with backlight
192 MB of Memory   (128 MB RAM / 64 MB DDR RAM)
Model: The Vega 3000 is PCI PTS v4.x Certified
Apple Pay, Samsung Pay, Google Wallet, Visa PayWave, MasterCard PayPass
Display logo on the screen and print logo on the transaction receipts
32bits 400MHz high speed microprocessor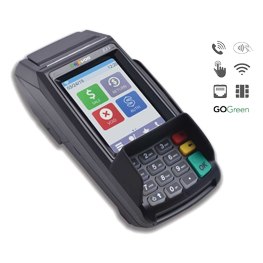 Z11 Tri Comm Touch Screen
EMV and NFC Contactless Built In – EMV 4.x L1 and L2 certified
Tri-Comm capability (Dial, IP & WiFi)
3.5" TFT LCD with PCT touch screen for signature on the screen
2.4'' Color LCD with backlight
192 MB of Memory   (128 MB RAM / 64 MB DDR RAM)
Model: The Vega 3000 is PCI PTS v4.x Certified
Apple Pay, Samsung Pay, Google Wallet, Visa payWave, MasterCard PayPass,
Display logo on the screen and print logo on the transaction receipts
Scroll multiple images on the terminal display when in idle mode
Ideal for signature capture and upload to the DeNovo business portal
Great solution for SPIn integration to POS systems
32bits 400MHz high speed microprocessor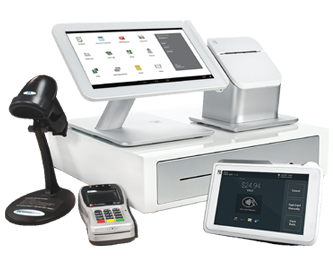 Clover
Your Clover point-of-sale (POS) system makes running your business a breeze. Take orders and accept payments. Organize inventory and manage your team. Grow your customer base. All at the tips of your fingers.
 FULLY FEATURED
Your Clover POS system comes with the basics built in so you can set up your business right away. And since we don't charge per employee, you can make it available to your whole team.
ACCESSIBLE FROM ANYWHERE
Clover's point-of-sale software syncs with the cloud, so you can access your sales, refunds, deposits, and reports, wherever you are or need to be.
COMPLETELY CUSTOMIZABLE
Your POS system should be tailored to your needs today and scale with your business. Build the system you need now, and expand as you grow with devices, apps, and accessories.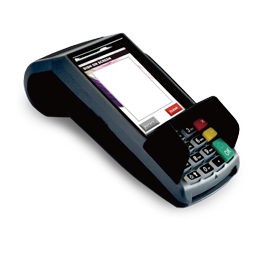 Z9 Wireless Terminal
4G/3G & Wifi
New Features
Larger, sleeker flat screen with wider keys for easier use
Enhanced, more powerful battery for improved and longer performance
USB-C charging capability allowing for more flexible charging opportunities
Features both 4G and 3G GPRS, offering wide spread of communication options
Other Features
Use your own WiFi wireless network
Connects easily, terminal finds available networks
Multiple options keep you connected
EMV and NFC contactless built-in
3.5'' Color LCD with touchscreen for signature on display
192 MB of Memory (128 MB RAM / 64 MB DDR RAM)
Model: The Vega 3000 is PCI PTS v5.x Certified
EMV 4.x L1 and L2 certified
Apple Pay, Samsung Pay, Visa payWave, MasterCard PayPass
Monthly SIM card plan options for 4G models
4G/3G Models use multiple data networks for unbeatable coverage map
Self discovering WiFi networks – set up with the touch of an icon for all WiFi enabled Models
32bits 400MHz high speed microprocessor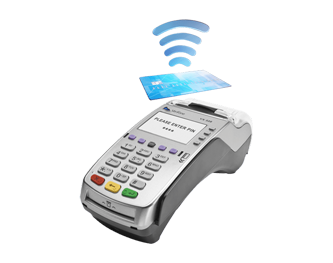 VERIFONE VX 520 DC/EMV
The ultimate in durability and reliability, the affordable VX 520 is built to last. It processes at lightning speeds thanks to its powerful ARM11 processor. And with large, backlit display, bold menu prompts and an intuitive ATM-style user interface, it's a breeze to use. With the VX 520, small merchants gain a huge asset.
The Vx 520 offers built-in connectivity options (dial, or Ethernet), expanding your future business options. Transactions are secure with PCI PED approval. Ample memory facilitates the addition of non-payment applications, such as telephone activation, loyalty and gift.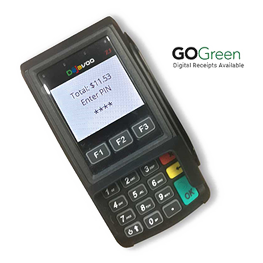 Z3 Pin Pad Terminal
Built In NFC Contactless Reader
EMV 4.x L1 and L2 Certified
Ethernet connectivity
32 bits high performance secure Microprocessor, @ 400MHz
2.4" color LCD (320×240 pixels)
192 MB of Memory   (128 MB RAM / 64 MB DDR RAM)
High Security CPU
Open Architecture Linux Operating System
Model: The Vega 3000 is PCI PTS v4.x Certified